New Anne Morris Box Set
ARDOR: Pride & Prejudice Variations Regency Box Set. Includes Two Bonus Novellas.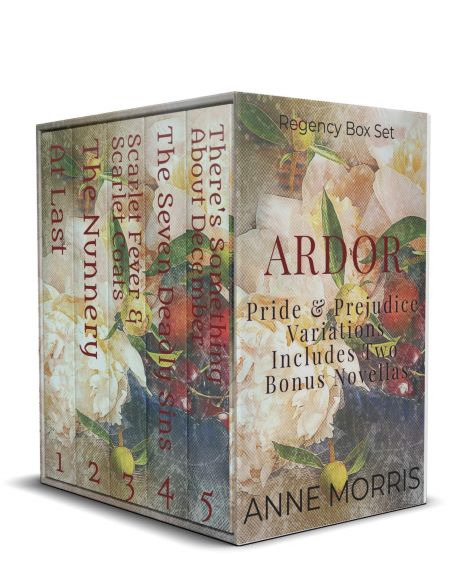 Copyright © 2021 Anne Morris
Ardent Love Carries the Day.
Disdain or misunderstandings vanish as love grows into great warmth, devotion, and ardor in the three novels in this box set. These Anne Morris Pride and Prejudice Variation stories were previously published individually; the box set includes two bonus novellas.
Full-length novels:
At Last
Scarlet Fever and Scarlet Coats
The Nunnery
Bonus novellas:
The Seven Deadly Sins
There's Something About December
Contents:
At Last: Elizabeth and Darcy square off as usual. Horrid London news sends them both to Scarborough for a time where Darcy makes a disastrous proposal. However, Georgiana and Lydia's friendship compels them to orbit each other. Finally recognizing their shortcomings, they find each other at last during the London Frost Fair of 1814.
Scarlet Fever and Scarlet Coats: When Elizabeth loses her hearing, it changes how she views the world, making her more circumspect. Mr. Darcy's insults go unheard, and she finds him less arrogant and warmer for not having a bad first impression. However, she and her new friend, Catherine Parks, find that the path to love is long and winding as they follow their hearts.
The Nunnery: Elizabeth is the leader of her motherless cluster of sisters, known to locals as 'The Nunnery.' Darcy, Bingley, and Colonel Fitzwilliam all blow into Meryton in this humorous tale as the gentlemen set out to reform the nuns of Longbourn.
The Seven Deadly Sins: A retelling of the original story as seen through the eyes of two angels. One is the angel of temptation, a deceiver; the other is the angel of virtue and is a worrier. The two celestial messengers are in Meryton to steer its residents away from the deadly Sins towards the heavenly Virtues.
There's Something About December: It is now December 1843. Grandpa Darcy is depressed as he walks the echoing halls of Pemberley. He misses his only daughter, long-married. Elizabeth suggests he read aloud—a chapter a night—a newly published book that sister Mary just purchased called, A Christmas Carol.